Thanks For Stopping By!
Thank you for visiting the CritterGear website. When we extended our family with a Cocker Spaniel puppy named Rylee we wanted him to look as unique and special as he is to us. All of the pet products we found in the pet stores were either ordinary or very expensive. We took matters into our own hands and personally designed and crafted Rylee his own collar. We knew instantly that we just couldn't keep it to ourselves
Now that we are preparing to celebrate our 9th year in business, not only have we added several new products and designs, we have also added another addition to our family – Maggie! Rylee's little sister, a Mini Schnauzer, loves to test out all of the new patterns, toys, and eat all the scraps that Rylee leaves on the floor!
And not to be left out, we also have two wonderful kitties named Milo and Boo Boo. Milo is a big orange tabby cat that likes to help us out with cat collar pattern selections, as he is a very fashionable cat. Boo Boo is a larger than life all black kitty that is more than willing to help us test out all of our catnip toys and comforters! Sometimes we need to hide all the catnip, we are just saying!
CritterGear is proud to be a small business that hand makes all of our products out of our home in Londonderry, NH! We take pride in providing all of our customers with the highest quality dog and cat products and thank you for your business!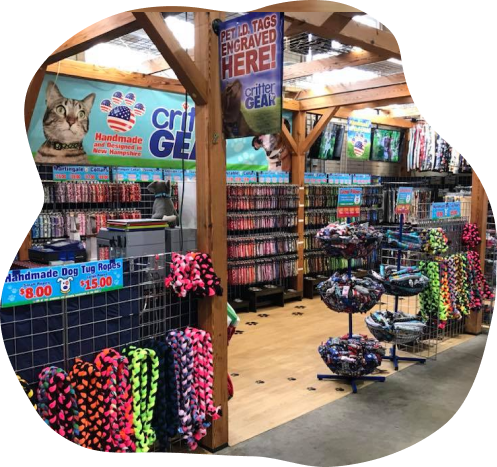 "I have to say the workmanship is incredible. I am going to tell everyone I know about your company!!"